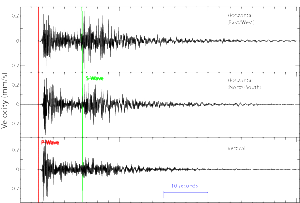 Thursday, November 28, 2013
7:30pm
The Auricle presents an evening of seismic sound with Christchurch premiere performances of Stanier Black-Five and Zeug Gezeugt's Body Waves – a work created from unique recordings of the Christchurch's earthquakes – and Austrian artist, Klaus Filip's 36 Days of Earthquake in Japan. The performances will be preceded by a talk by the artists on the music and acoustics of earthquakes.
Body Waves is a work created with the powerful field recordings of earthquakes and seismic phenomena made by Lyttelton sound artist, Stanier Black-Five near the epicentre of the February 22nd 2011 earthquakes. These will be tuned by local electroacoustic artist, Zeug Gezeugt to the unique resonant frequencies of the performance space, creating an infrasonic soundscape in which the audience is immersed in a visceral music that goes beyond the auditory system to be felt in the body.
Body Waves has generated considerable international interest and was the subject of a feature on TV3. After touring Body Waves around the world, the duo will be bringing it back to its Christchurch source for its first and final performance in the city. The event is celebrating the launch of their Body Waves album by the European Entr'acte label.
They will be joined on the bill by highly regarded Viennese performer, composer and programmer, Klaus Filip who will be performing 36 Days of Earthquake in Japan. In this sonification of the magnitude 9 Japan 2011 earthquake, Filip will be creating a live mix using raw seismological data from four different seismic stations played 4000 times fasterto make it audible.
Filip's installation, Photophon is also being exhibited at the Auricle in the week leading up to the performance. Using the principle of Graham Bell's invention of the "photophone", the installation features a direct translation from sound into light and vice versa: you see what you hear, you hear what you see. Listen through headphones as the light signals are transformed into sound and every light bulb transmits a different frequency. The installation can be experienced on Sunday 24th: 2-5pm, Wednesday 27th 12-5pm & Thursday 28th 12-6.30pm
Artist Talk: 7.30pm
Performances start 9pm sharp ($5)
At The Auricle – 35 New Regent St, Christchurch CBD