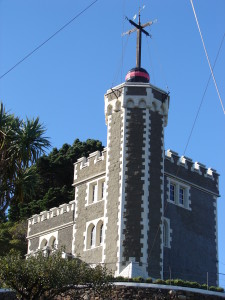 Lyttelton-based sonic artist, Jo Burzynska is reconstructing the Timeball Station out of sound as part of the Lyttelton Summer Festival. Using recordings made throughout the historic building when it was standing, she will be creating a multi-speaker installation on its site in the footprint of the original building.
Before Lyttelton's Timeball Station was destroyed in the earthquakes of 2010 and 2011, Burzynska made extensive audio recordings of the building that were originally used in a performance at an event in the building hosted by the Borderline Ballroom. These ranged from the sound of the timeball itself being wound up and then dropped to documenting the audible environment of the building.
Completed in 1876, the Timeball Station was built to signal the time to ships in Lyttelton harbour, by dropping a large ball from its mast on its stone tower. This castle-like structure also included three storeys that provided accommodation, work areas and housed the clock.
While the building is no longer there physically, it will be present in sonic spirit for visitors to wander around all afternoon on 14th February. Burzynska will also be leading a one-hour sound walk around Lyttelton starting from the site at 1pm that day, which will explore the exciting acoustic terrain of this natural amphitheatre and encourage walkers to tune in to the shifting port soundscapes.
This event is being held in conjunction with Heritage New Zealand, who will also be on site to provide information about the building and the rebuild of its tower, which starts this year. The project is also supported by `funding from the Christchurch Community Arts Council.
Date: Sunday 14th February
Time: 1-5pm
Place: Timeball site, 2 Reserve Terrace, Lyttelton
Koha