25 July to 11 August, 2018
May Space, Sydney
My audio-olfactory work, La Chevelure is part of reminiSCENT, an ambitious olfactory art exhibition curated by Megan Fizell at Sydney's May Space, which surveys contemporary artists initiating multisensory experiences through olfactory encounters. As well as the 2016 audio-olfactory installation, this iteration includes La Chevelure Boîte à Souvenirs, a vintage hand-carved box containing a copy of the sound work, the scent and the Charles Baudelaire poem, La Chevelure.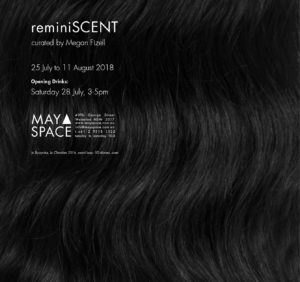 "…mon âme peut boire / À grands flots le parfum, le son et la couleur" – Baudelaire, La Chevelure.
La Chevelure is an exploratory, immersive audio-olfactory installation that charts a sensuous journey through the waves of 'synesthetic symbolism' in the Charles Baudelaire poem of the same name. In his poem from the mid-1800s, Baudelaire created a dense tangle of multisensory imagery to evoke the poem's conceptual and emotional content using the central symbol of a lover's head of hair. This wafts layers of exotic sensory symbolism through the poem's inner and external worlds, much of which is evoked through scents and sounds. In this contemporary interpretation, the poem's mental imagery, symbolism and conceptual elements are transposed to actual sounds and scents, and current understandings of crossmodal correspondences – the universal tendency of a sensory feature in one modality to be matched with one from another sensory modality – are applied and explored. Sensory interactions are harnessed to elicit states of mind, creating subconscious connections that provoke powerful conscious perceptual experiences.