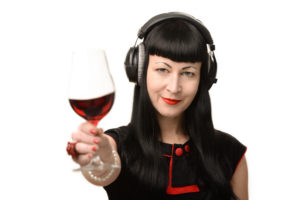 Dr Jo Burzynska is an Australasia-based sound artist, wine writer, researcher and curator. Her work in these areas has increasingly converged in the production of multisensory art and the design of immersive environments, which include the establishment of the world's first 'wine and sound' bar. As a sound/multisensory artist she has exhibited, performed and released her work around the world, while in her role as an international wine critic and judge, she has written widely read wine columns and is the author of Wine Class: All You Need to Know About Wine in New Zealand (Random House).
Her installations and performances are regularly created at the intersection of the senses, often combining her specialisations of audition and the chemical senses (taste and olfaction). Recent years have seen her work on numerous projects that fuse multisensory art and science, which has involved research with leading figures in the fields of experimental psychology, cognitive neuroscience and sensory science. She was awarded a PhD for her interdisciplinary research that investigated sensory and aesthetic interactions between sound and flavour/aroma and their creative application.
Her art includes the participatory sound and wine work, Oenosthesia which, after its premiere at the Intereferenze FARM Festival in Tufo, Italy (2012), went on to be shown at Italy's national museum of contemporary art, MAXXI in Rome; Studio Sienko in London and the Dunedin Public Art Gallery, Audio Foundation and Physics Room galleries in New Zealand. Her recent audio-olfactory work, La Chevelure, which transposes the symbolism of a Baudelaire poem into metaphorical mixtures of actual sounds and scent, was shown at the Institute for Art and Olfaction Los Angeles; Milieux Institute in Montreal and May Space Gallery in Sydney.
Jo performs regularly both in Australasia and internationally – also under the name Stanier Black-Five – often mixing her own field recordings live to create dense and visceral soundscapes. She has played alongside artists such as Chris Watson, Merzbow and Daniel Menche and presented her work at festivals such as London Musicians Collective's annual Festival of Experimental Music in the UK to New Zealand's Lines of Flight Festival. She has also had her music released, which includes the solo album Avast! (CD) on Belgium's Entr'acte and Alone with the Black Spirits (Vinyl and mp3) on the UK's Rail Cables label.
She was one of the founders and a curator of The Auricle Sonic Arts Gallery in Christchurch, New Zealand, the South Island's only sonic arts gallery and public multichannel performance space. This included the world's first dedicated wine and sound bar where she curated an "oenosthetic" wine list, in which wines were matched to the current exhibition and the music playlist she created for the space.
As a writer she is actively involved with communicating about sound art, experimental music and wine. She is the co-editor of Writing Around Sound and has written for the likes of the UK's The Wire magazine, Noisegate sound art journal, Berlin's Datacide and contributed a chapter to the book Erewhon Calling: experimental sound in New Zealand, edited by Bruce Russell. In the area of wine, as well of writing a book on wine in New Zealand, she has edited a number of wine magazines (most recently WineNZ); was the wine editor for nine years of the New Zealand Herald's Viva magazine; continues to contribute to specialist wine publications around the world and is an active senior wine show judge and panel chair at the International Wine & Spirit Competition. She has also worked in radio, hosting a number of experimental radio shows, on the UK's Resonance FM to Christchurch's RDU, and as a wine commentator on Radio New Zealand.
She is currently based in Lyttelton, New Zealand.