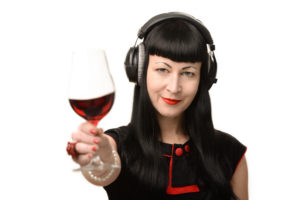 Dr Jo Burzynska is New Zealand-based wine journalist, author, judge, multisensory artist and researcher. She is the author of Wine Class: All you need to know about wine in New Zealand (Random House), contributes to specialist wine publications worldwide and judges and chairs at wine shows internationally.
Jo's career in wine started close to two decades ago in her birthplace of the UK. Her first two years were spent in the trade, running a central London wine shop and studying at the Wine & Spirit Education Trust (WSET).After going on to gain a qualification in journalism, she moved to wine writing and was shortlisted for prestigious awards such as the Glenfiddich Wine Writer of the Year and Prix du Champagne Lanson Wine Writer of the Year before the age of 30. This era saw her contribute to publications such as the Financial Times, take a permanent position at Harpers Wine & Spirit Weekly (where she became Associate Editor of its special supplements) and appointed Editor at the Drinks Buyer magazine group.
By 2004 Jo decided she wanted to be based in a winegrowing nation and moved to New Zealand. There she wrote one of New Zealand's most widely read weekly wine columns in her role as Wine Editor of the New Zealand Herald's Viva magazine and revitalised New Zealand's only dedicated wine magazine, WineNZ as its editor. She has recently completed a multidisciplinary PhD at the University of New South Wales, where she is researched the influence and creative application of sound on the perception of wine flavour and aroma. She continues to write on wine internationally, for magazines such as Club Oenologique.
An active and experienced wine judge, Jo regularly participates in competitions both locally and internationally, which includes chairing panels at the UK's International Wine & Spirit Competition. She is also an experienced wine educator: running her own Adventures in Wine classes, as a Certified Educator for the WSET and as a regular guest lecturer at The Centre for Viticulture and Oenology at Lincoln University. She is also one of the founders of  Wine Writers of New Zealand, a professional association of wine communicators committed to promoting excellence and integrity in the country's wine writing.
Also a musician and sound artist, Jo established the world's first "wine and sound" bar at The Auricle in Christchurch, NZ for which she curated a wine list to complement its monthly exhibition and the music playing in the space. She recently completed an interdisciplinary PhD that explored the influence of sound/music on the perception of wine aroma and flavour across the fields of art, sensory science and psychology. She applies this knowledge in her popular  wine and music matching events, in multisensory artworks involving sound and taste presented around the world, and through her multisensory consultancy to drinks companies seeking to integrate their products' flavours with sound and other sensory and aesthetic elements.