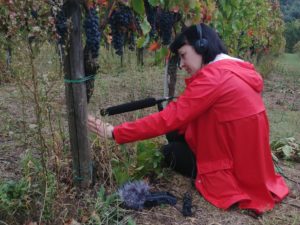 Montesarchio, Italy, October 2018
Risonanze di Vino was a residency project in which I explored the interactions between the sounds and wines, culture and senses in wine regions within Campania, Southern Italy. Curated by Leandro Pisano and supported by Nicola Carfora, this project sought to uncover resonances between the sensory and affective connections of local winegrowers – predominantly located in Sannio/Valle Caudina areas – and their wines and land. These responses helped guide the making of audio recordings in their vineyards and wineries, which were then used in the creation of site-specific soundscapes for one wine from each of the six producers visited.
Each soundscape aims to reflect the connections articulated by the maker of the selected wine through sounds of that wine's sonic 'terroir', sourced from its place and production. The individual soundscape was also designed to harness perceptual correspondences between elements of the sounds recorded and the salient aroma and flavour characters of the individual wine, which is tasted as part of the work. The wine and sound combined offers a sensory transmission of the complex cultural and personal contexts of the wine's making, heightened by the works' crossmodal harmony.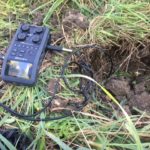 The works from Risonanze di Vino were premiered on 7 October, 2018 at Cristina Park Hotel, Montesarchio, Italy. The wines used were:
Masseria Parisi Resolje Moscato Spumante de Baselice NV
Masseria Fratassi SVG920 2017
Vallissasoli 33/33/33 2013
Fontanavecchia Libero Taburno Falaghina 2007
Cantina Giardino Bianco 2017
Cantine Tora "Spartiviento" Aglianico del Taburno Riserva 2011
Further and more detailed documentation may well be forthcoming!