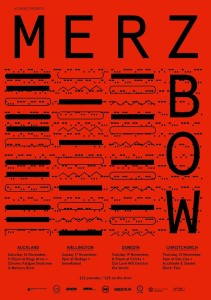 One of the most extreme and uncompromising musicians of the 21st Century is coming to New Zealand this November, performing in Christchurch on 21st November at the Dux Live with Stanier Black-Five and Acclimate.
Delving deep into otherworldly extremes of industrial, metal machine noise and beyond, Merzbow's blistering output runs the gauntlet of his definitive brand of Japanese noise – from charred and blackened subterranean lows to interstellar cosmic highs. Punishing, remorseless frequencies pour forth in a relentless onslaught of pure sound, decomposing electronic textures devolve into tsunamis of brutal guitar wreckage.
Stanier Black-Five (Lyttelton)
One of the noisiest women in New Zealand music, Stanier Black-Five has been performing her unique brand of industrial musique concrete across the world for over two decades. Her work is largely based on the manipulation of her own environmental recordings, which she uses to create dense soundscapes that use sources such as mesmerising aircraft drones to the pounding rhythms of trains and more recently the sounds of the earthquakes that have shaken her city. This will be her first performance on home turf since her tour of Europe this September to promote her recent album releases on the UK/Belgian Entr'acte label. www.stanierblackfive.com
Acclimate (Rotorua)
Without following clear guidelines, Acclimate marks its style by combining more aggressive and dark sounds of electronica with disorder and chaos, merging experimentation with confusion but managing to transmit a worthy solidity of the most academic artists. Noisy abrasive sounds collide with atmospheric patterns of tranquillity, layers of dark low-end rumblings hover over minimal textures of electronic experimentalism, and rusty and scratchy power noise beats clash with synthetic interstellar pad work to create a whole new dimension of sonic pleasure. www.samboygethelp.co.nz/#!acclimate 
Presale tickets available via Undertheradar – http://www.undertheradar.co.nz/utr/show/SID/34356/N/Altmusic-Presents-Merzbow-with-Acclimate-and-Stanier-Black-Five.utr
Special thanks to Asia New Zealand Foundation for their support of this tour.
Altmusic is a programme administered by the Audio Foundation www.audiofoundation.org.nz/altmusic with this tour part of Altmusic's programme of independent & adventurous international musicians touring New Zealand in 2013 – special thanks to CNZ for their continued support.