Back in September I was over in the UK to judge at the International Wine and Spirit Competition. Last night in London, the competition's full awards were announced; with Matua named New Zealand Wine Producer of the Year, joining fellow New Zealand Trophy winners Giesen and Kim Crawford, which won the Pinot Noir and Sauvignon Blanc Trophies respectively.
It was another strong year for New Zealand at the IWSC. In the first tranche of results revealed in late September, the country was awarded a high proportion of Silver Medals and a raft of Golds, as well as Giesen Single Vineyard Ridge Block Marlborough Pinot Noir 2013 taking out the top Pinot Noir Trophy and Kim Crawford Small Parcels Spitfire Marlborough Sauvignon Blanc 2016 in pole position with its win of the Sauvignon Blanc Trophy.
One of the notable features of this year's results was the wide spread of varieties and styles across the top wines. As well as the usual suspects – Sauvignon Blanc and Pinot Noir – the Gold medal winners included Chardonnay, Gewürztraminer, Syrah, Merlot Cabernet and Malbec. I was also really pleased to see a spectrum of Riesling styles winning Golds – which ranged from an older example to a lusciously sweet expression – and were testament to just how good the country's Rieslings are now.
Trophy winners

IWSC Pinot Noir Trophy – Giesen Single Vineyard "Ridge Block" Marlborough Pinot Noir 2013
This wine unfurls to reveal complex layers of red and black cherry fruit, notes of sweet spice, earth, herb, hints of smoke and a savoury, gamey undercurrent. These are wrapped in a silken texture and supported by fine tannins and fresh spine of acid. An elegant, complex and harmonious wine.
"Marlborough has come of age: the vineyards have more maturity and personality. How to better capture that with a single site expression instead of blending multi sites together for a regional blend?" Marcel Giesen, Giesen

IWSC Sauvignon Blanc Trophy – Kim Crawford Small Parcels "Spitfire" Marlborough Sauvignon Blanc 2016
Punchy green aromas of fresh Thai basil and oregano laced with lime and grapefruit abound on the nose. On the palate there's classic 17th November, 2016Marlborough sauvignon gooseberry fruit and a lush hit of guava, infused with fragrant notes of green herb and blackcurrant leaf, all underpinned by a vibrant line of mineral and limey acid. A wine in which power and elegance combine.
"While we are driven to make wines that people love to drink, it's also great to achieve recognition from your peers and industry leaders that validates the hard work the whole team puts into making this wine." Anthony Walkenhorst, Kim Crawford senior winemaker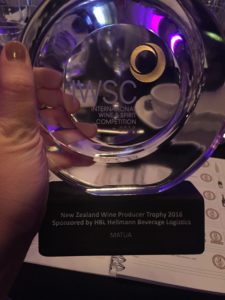 New Zealand Wine Producer of the Year – Matua
"The biggest thing for me is that the Trophy recognises the breadth of the Matua portfolio. From an international perspective New Zealand is always talked about almost solely as a Sauvignon Blanc producer, and sometimes Pinot Noir, so we're thrilled that the cumulative performance of so many different varietals got us here. There's a lot of incredibly happy people in the Matua team right now across the board from viticulture, to packaging, marketing the cellar and of course winemaking – we're a proud team." Greg
Big competition, small classes
The IWSC is one of the big international competitions, with entries from around 90 countries judged over a 6-month period at its own premises in the UK. I've been a judge with the competition for 15 years, in the last couple chairing some of the New Zealand panels and judging the Trophy classes.
It's always a treat to judge with some great palates from around the world at a well-organised competition where wines are initially judged in regional, and sometimes down to sub-regional categories.
With a cap set at tasting 60 wines each day, I always walk away confident that the wines have been given a fair and thorough look. This number is based on competition guidelines set down by the International Organisation of Vine and Wine (OIV), which recommends "each juror shall taste at the rate of no more than 45 samples per day". This is certainly not the case in many Australasian competitions, where despite a move to reduce wines judged in one day, judges are regularly expected to assess over 150 samples, despite all the evidence of the effect of palate fatigue when tasting such a large number of wines.
The full results can be accessed through the IWSC with in-depth New Zealand coverage in the forthcoming Summer issue of WineNZ magazine.
Jo Burzynska is a judge and New Zealand Ambassador for the IWSC