Stanier Black-Five/Jo Burzynska
By Chris Cudby
Published in undertheradar.co.nz
Wednesday, 17th July 2013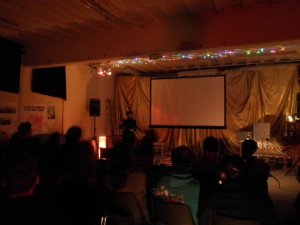 Christchurch-based artist Jo Burzynska aka Stanier Black-Five will be presenting a multi-sensory sound and wine installation named Oenosthesia this Friday in Auckland. An expert in both fields (she is both a professional wine writer and an acclaimed sound artist) Burzynska gave us the lowdown on Oenosthesia,  her active relationship to sound art practice and sheds light on Christchurch's lively post-quake scene.
Could you please talk about your upcoming Oenosthesia wine and sound event at the Audio Foundation…
Oenosthesia is a multi-sensory work that I produced last year during an artist's residency in Campania, Italy. From my work as a wine writer (I'm the wine editor of the New Zealand Herald's Viva magazine) and sound artist, I had begun to realise that what we're listening to when we eat or drink can have a powerful influence on our perception of what we're tasting. So in this project, I created a soundscape from the recordings I made in the region's vineyards and wineries that I designed to enhance different styles of local wine.
The event at the Audio Foundation will start with a showing of a short film made by the curator of my residency programme, which documents the making of the installation. I'll then be taking questions from the audience before inviting them to immerse themselves in Oenosthesia's multisensory environment. It's a 25 minute piece in which the frequencies, timbres and rhythms interact with three Campanian wines served to participants at specifics points in the piece.
Is Oenosthesia a term that you've come up with? What does it mean?
I created the work's name, Oenosthesia from combining the Greek word for wine, "oenos" with the suggestion of synesthesia, the condition in which the senses become crossed, which I thought encapsulated the idea of the piece.
Could you also please talk about your earlier multi-sensory projects? Is this an ongoing series?
Oenosthesia was the first project in which my own sonic practice and wine interests converged. Prior to that I'd run a number of wine and sound/music matching workshops, demonstrating the effect sound has on taste using a music from a variety of genres. I'd been looking at ways of working with sound and smell in the past, but the delivery of aromas is rather tricky, but then I realised that wine was the perfect medium!
Your live work often keys into site-specific and environmental aspects of recording and performance – do you have a philosophy of practice that you could describe for us?
Most of my work uses my own environmental recordings, which are sometime sourced and performed in the same place. I'm always on the listen-out for interesting acoustic spaces and something like the Silo Park (where I performed last year) was amazing in terms as a space in which to record material and perform.
I tend to make a lot of work – both recorded and live – from recordings I've made in a single locale, such as for Avast!, the album I have coming out on the Entr'acte label in a few months, which was created solely from recordings I made around the Port of Lyttelton.
Conversely, I do also use sounds from diverse sources in my performances. I basically want to capture and use interesting sounds in my work, in which the source material is minimally processed – just selected, edited, layered and sometimes looped.
You sound really busy – how do you balance your time between your sound art practice, your wine writing and your other activities (eg. your involvement with the Borderline Ballroom events)?
I guess I'm pretty disciplined. I'm not quite sure how I fit everything in, but usually manage! Spare time is not a luxury that I possess, but I consider myself extremely lucky to have a life that consists of so many interesting strands.
You recently wrote about Christchurch's post-quake sonic arts culture for the Wire Magazine, how would you describe the current state of affairs there? It seemed like there was a flood of younger artists and musician moving to Auckland and Melbourne (which had an interesting byproduct of enlivening the Auckland music scene with fresh faces) – any sign that things are settling down, any new talents emerging?
Despite losing quite a few artists to other places post-quake, I think the Christchurch scene is currently entering a really exciting era. New younger acts are emerging, while a lot of artists have made great work from the energy generated by the disaster, which jolted everyone out of their ruts, be they personal or creative.
Although the music has almost never stopped playing in home/adhoc spaces, public venues have been a real issue. The Borderline Ballroom is in the process of trying to establish a permanent sonic arts gallery and performance space in in the city, which should make things a lot easier and hopefully see the strengthening of a scene populated by some amazing artists.
Interestingly, the city council appears to be supporting sonic art quite strongly in its post-quake transitional arts programmes, which is something that's new and encouraging.
How did you come to be involved with experimental music?
When most children were being played nursery rhymes, I was listening to steam train soundscapes on vinyl. My grandfather was steam enthusiast and he'd put these records on when we played together with his vintage train sets. I'm sure this has had an impact on my later involvement in experimental music. I still love the sound of trains and in fact Stanier Black-Five is the name of one of my favourite-sounding steam locomotives!
I went on to play bass guitar in some noisy bands as a teenager and was into more marginal music from a young age. Then when I moved to London aged 18, I started DJing. This metamorphosed into using multiple turntables and saw me feeding in more abstract recordings, sound effects, modified vinyl etc until I eventually replaced the records with my own recordings.
What artists are you currently interested in / following right now?
Artists that I admire who are working in a similar area as myself include the likes of Chris Watson and Lionel Marchetti. I have pretty wide tastes, which can see me listening to the outsider experimentalism of Vitamin B12 and Jason Williams to rediscovered 80s synth/minimal wave recordings, such as The Dadacomputer. Closer to home, Bruce Russell & Lasse Marhaug's Virginia Plane is on my turntable at present.
This interview was proudly brought to you by the Audio Foundation.